The Trio Fingerprint Bracelet | Bobble Chain
$229.00 AUD
Regular price
Feel forever connected to multiple loved ones or moments in your life.
Introducing our Trio Fingerprint Bracelet.
Diamond engraved with Three fingerprints side by side. Our Trio Fingerprint Bracelet comes complete with a complimentary initial or name engraving for extra meaning.
Each precious metal pendant is locally engraved in Sydney with exceptional craftsmanship, and attached to a luxury bobble bracelet chain, made by our artisans in Italy. Designed for daily wear as a luxury statement piece.
Our jewellery is a one-of-a-kind gift (for yourself or someone else) that captures the overflowing love for three special people in your life. From newborn baby, husband, child, mother, or to commemorate loved one's lives.
Celebrate a special someone and wear your heart on your sleeve, with this unique piece of jewellery.
Every Fingerprint Pendant ordered will receive:
- A Free Fingerprint Kit - including ink strip, print paper and instructions
- Hard Case Jewellery Box
- Micro Fibre Cloth
- Jewellery Care Card
Pendant = 16mm
Chain = 16-19cm (adjustable)
Please review the material tab below for details regarding our precious metals
Process
We communicate with you at every step of the process so you understand where you are on your Deja Marc journey. If you have any other questions please review our detailed process or FAQ . Alternatively send us an enquiry via our contact page . Already have a fingerprint? Upload your file in the above section or click here.
Step One
Order your keepsake jewellery.
Step two
Deja Marc send your free fingerprint kit within 24 hours.
Step Three
The Fingerprint Kit comes with an ink kit and step by step instructions.
Step Four
Once complete, take a photo and upload your fingerprints back (via email or QR code) following the instruction provided.
Step Five
Deja Marc locally engrave and personalise your pendant. Production timeline is approximately 1 week.
Step Six
Deja Marc send beautifully packaged final keepsake.
Materials
Deja Marc jewellery is either 9k solid Gold, 18k Gold Vermeil, 18k Rose Gold Vermeil or solid Sterling Silver.
We also add a palladium layer to ensure the lasting of your keepsake.
To see full details on our jewellery and how to care for them, click our care guide.
Engraving Options
FINGERPRINT
Each customer receives a free Deja Marc fingerprint kit to capture the perfect fingerprint.
Each pendant is diamond engraved in Sydney by our engraving team, using the latest engraving technology.
For more information about our fingerprint capture process, click here
NAME, INITIAL OR DOB
Across our single sided pieces of jewellery, we offer you the option of a free initial, name or DOB engraving. Simply add this into the text box above.
Customer Reviews
100
reviewers would recommend this product
Write a Review
Ask a Question
I recommend this product
LOVE
This was for my mother for her birthday and she absolutely loves it, so happy with how it turned out.
26/01/2022
Anonymous

Australia
I recommend this product
Amazing
I love my bracelet, it's the perfect gift
21/10/2021
Anonymous

Australia
I recommend this product
Trio bracelet triple fingerprint
Gorgeous got that after my necklace and got necklaces for the girls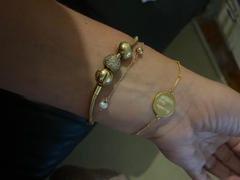 Leave your 'MARC'
Our philosophy is to leave our mark for the greater of others. Understand how you can leave a positive impact.